Lawrence Okolie would take Chris Billam-Smith fight on May 27: 'I don't know what they're waiting for' | boxing news
Lawrence Okolie has declared that he is willing to travel to Bournemouth to fight Chris Billam-Smith in his hometown's football stadium on May 27.
World champions don't normally call out prospective challengers, but Okolie, the WBO cruiserweight titlist, has publicly thrown down the gauntlet to his British rival.
Billam-Smith has a date set for his next fight, May 27, and the 15,000-seat capacity Vitality Stadium in Bournemouth booked but his opponent is yet to be confirmed.
Please use Chrome browser for a more accessible video player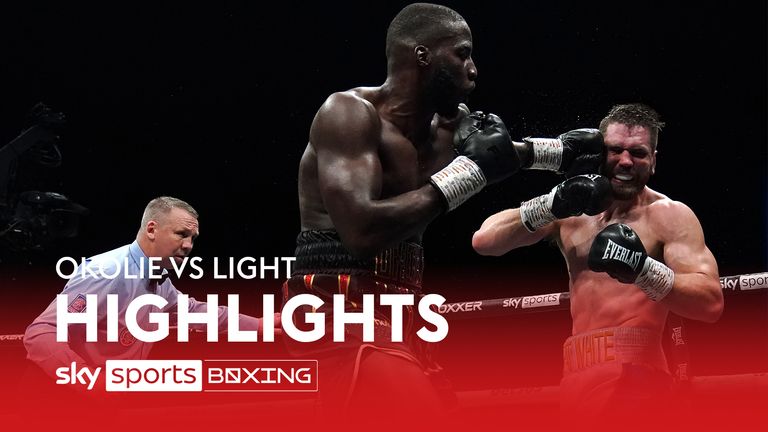 Highlights of Lawrence Okolie against David Light as the Brit retained his WBO world cruiserweight title in Manchester

Although Okolie only fought on Saturday, dominating David Light to take an unanimous decision at the Manchester Arena, he is willing to box Billam-Smith in two months' time.
"I got out of the ring after 12 rounds, I've been out of the ring for a year," Okolie told Sky Sports. "I'm still sore. But that stadium fight's there. Are you up for it? Absolutely, I will come to Bournemouth, bring my world title down."
He points out he is offering Billam-Smith, a former gym-mate and sparring partner, an "amazing opportunity to box in his hometown, with tens of thousands of fans, for a world title", and Okolie would take "a massive deduction at my end. Massive. Just to help you with the opportunity".
"When it comes to actually saying yes to a fight, I'm up for it," he continued.
"To box in someone else's hometown, give them their dream night and I'm still waiting for a yes. Isn't that bizarre to you?
Please use Chrome browser for a more accessible video player
Johnny Nelson says world cruiserweight champion Lawrence Okolie needs to develop his skills further if he wants to keep hold of his WBO title

"I'm up for it. We'll find out. I was 'vulnerable' in my last fight. Was it ringrust? Am I just [bad]? We'll have to wait and see for May, if they take it.
"It's bizarre. 'He's rubbish, he's boring…' Then expose me. Expose me and say yes. All I ever hear is soon and blah, blah, blah. I don't know what everyone's waiting for."
Okolie has opened the door for his British rivals to get the fight with him. London's Richard Riakporhe would be another appealing challenger.
"Chris Billam[-Smith]British, Commonwealth and European [titles], he's done the steps. Riakporhe [has] profile as opposed to actually done anything in the last little period. So those fights have value in that way," Okolie said.
"But in terms of actual legacy, boxing unifications always supersede the British domestic fight."
Please use Chrome browser for a more accessible video player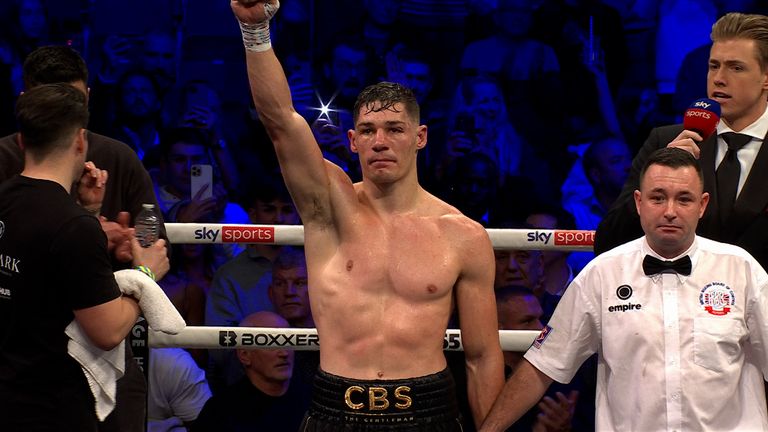 Highlights of the main event fight between Chris Billam-Smith and Armend Xhoxhaj at the Bournemouth International Centre

Okolie though would put his own ambitions of unifying world titles on hold to make the fights with Billam-Smith or Riakporhe, "for me to just show people it's not close between me and these guys. But only time will tell."
"I'm just completely flabbergasted by all these guys, why someone wouldn't say, 'Yes, next, he's [rubbish] I'm going to [mess] him up.' Why is no one saying that?
"I can't imagine being a 32-year-old, 33-year-old, with all this ambition, a few years left in boxing, you've got a champion in your country that's saying you don't even need to be mandatory.
"You don't even need to be mandatory. You're a tough fight but I'll still take it. Let's do it. And you're 'umming and ahhing'.
"What's going on?"